SERIE A - Inter Milan boss Inzaghi: "Our win against Napoli was a maturity display"
Source: inter.it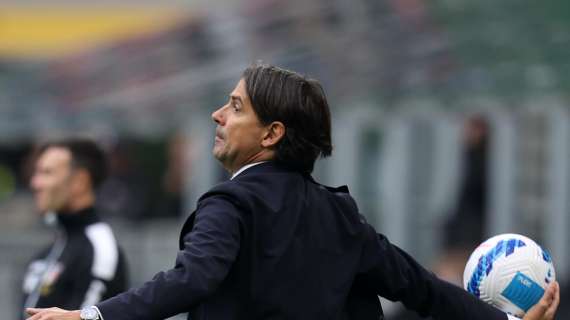 TRANSFERmarketWEB.com
Ahead of upcoming Champions League match against Shakhtar Donetsk, Inter Milan first-team manager Simone Inzaghi stated:
"We produced a great performance on Sunday to beat a Napoli side that had set so many records. They had the best defence in Europe, and we managed to put three past them. It was a display of great maturity and character. It's all in our hands in the Champions League now. We're up against a side that plays good football with a top coach and they made it hard for us when we last faced them. We'll need to take the game seriously and be well organised.
Sunday's game was very demanding, with problems ensuing. Nicolo Barella and Joaquin Correa asked to be substituted while they were playing well. Hakan Calhanoglu was on a yellow card at 3-1 and I decided to take him off. Edin Dzeko wasn't fully fit, and Martin Satriano is ineligible in the Champions League. Lautaro Martinez has also played a lot of football, while Alexis Sanchez and Stefan de Vrij are out. We hope all the injured players will be back at their best soon.
Qualifying has been one of our targets since the start of the season. We're in a good position. We know this is a key game, especially as our final game in Madrid will be tough. Shakhtar have quality and can always make it hard for us, but we'll try to prepare for the game as well as we can."
I'm lucky enough to coach experienced players who've been playing at this level for many years. It doesn't matter which team you're facing. We've taken on teams that have sat back and others that have pressed high. I've known Roberto De Zerbi for many years, and we've come up against each other many times. Shakhtar are a technical team with fantastic individuals. They're a good footballing team."
Does the fact that Shakhtar have to win at all costs change anything? I don't think so. Shakhtar already have a defined style of play and I can see it being a typical European match. It'll be a crucial game. Either side could've won that game. We carved out plenty of chances and Shakhtar had lots of possession. They'll want to take the reins and we'll try not to let them. We created lots of chances in our last game against them. We needed to be a bit more decisive and to have more luck as well. You need to worry when strikers aren't getting chances, but that's not the situation for us.
There's an ongoing development process and we're on the right path. There's still a long way to go and every coach has their own ideas. The atmosphere here is fantastic and it's a wonderful club with a brilliant fan base. My staff and I try to get our ideas across to the team. We can take so much confidence from the Napoli game. We'd always played well in games against the top sides, but we lacked that ruthlessness. We finally won one of them on Sunday and that's given us a big boost.
De Vrij and Sanchez are out at the moment, but we hope to have them back as soon as possible. The other players are showing positive signs. They've all played a part, some more than others. Sensi is working hard and he'll get a chance to contribute, just as his other team-mates will".