LA LIGA - Real Madrid boss Ancelotti on CL win and individual performances
Source: realmadrid.com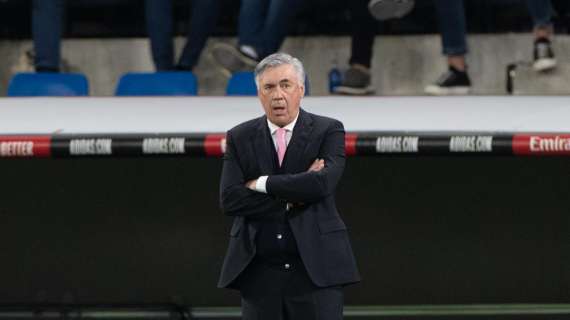 TRANSFERmarketWEB.com
© photo Federico Titone/BernabeuDigital.com
Avenging their first-leg debacle against underdog side Sheriff Tiraspol, by defeating Moldavian team, through a 3-0 final outcome, Real Madrid boss, Carlo Ancelotti, stated:
"It was a good, disciplined performance. We performed properly, and showed what we're capable of. We looked strong defensively, we didn't take any risks, particularly early on. I'm pleased, we've qualified from the group. There's one game to go and we want to win it to finish top. Alaba got a slight sprain in his knee, but it's nothing to worry about, because he's not in a lot of pain. He looks okay and we hope he'll be able to play on Sunday. Casemiro and I spoke because he told me he was on a warning and didn't want to get booked. I waited a little bit and then took him off to avoid him picking up a suspension for the Inter game.

I've been saying since the start of the season that this team can compete for the top. Now things are going well, we're on a good run and showing our quality in every area of the pitch. We have done a good job in the group, we've only lost one game. The team was completely different to the one we saw in the first game, tonight we were a disciplined side who play some good football.
I brought Mendy off because he'd picked up a card, Carvajal because he's been out and Alaba because he had a bit of an issue. I had two more substitutions and Casemiro was on a warning, so I took him off, and then Rodrygo was coming back from injury and it could have been a risk to leave him out there. The rest of the guys are fine and we're playing Sunday night, we've got plenty of time to recover well.
If Kroos is fit, then the manager can relax. When he's on the pitch he uses the ball like nobody else and as I said before the three players (Modrić, Casemiro and Kroos) combine amazingly. He's also scored goals in recent games and he's playing really well. Benzema? We haven't spoken, but he's chill. It's something that was spoken about some time ago. The player is totally focused on his job. He seems calm and he played really well today. Rodrygo gave a good performance, he was very sharp up front and had chances. He was dangerous on the right wing and linked up very well with Modrić. For me, he's just as important as the other players. He's very young and, like the others, has a lot of quality.

We usually have three players on the wings. If Rodrygo pulls wide, then Modrić plays through the space and the full-back pushes forward. In these types of games we have to control the middle more and sometimes the wings. It also depends on the opposition's characteristics. It's slightly different on the left because Kroos doesn't go too far forward, so Vini stays more out wide, Mendy goes into the space".

Nacho has been doing really well. He's got a few games under his belt. At times he hasn't played, but he always demonstrates true professionalism. He deserves to play, like others do, but I know I can always count on him".