PSG - revolution at the end of the season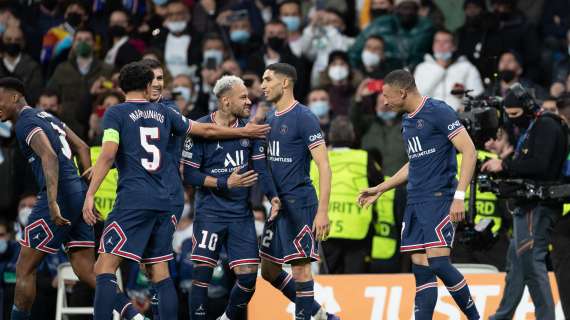 TRANSFERmarketWEB.com
Yesterday was a tense day at Paris Saint-Germain. The defeat against Real Madrid most likely marked the end of Mauricio Pochettino's adventure on the bench of the Parisian club. The season of Mbappé and his associates, despite the dominance in the league, was very disappointing: many defeats in the most important matches and also the elimination from the French Cup. In the summer it will change and, according to L'Equipe, there is not only Zinedine Zidane in the thoughts of Nasser Al-Khelaifi and Leonardo. Diego Simeone is one of the strongest candidates on a list that includes 10 names, including Max Allegri (Juve), Antonio Conte (Tottenham), Erik Ten Hag (Ajax), Christophe Galtier (Nice), Mikel Arteta (Arsenal) , Simone Inzaghi (Inter), Lucien Favre and Thiago Motta (Spezia).
Fans contest: the sports center is smeared
From words to deeds. The fans of Paris Saint-Germain did not take well the disappointment in the Champions League and they took it out not only with Pochettino's team, but also and above all with the management, first of all Nasser Al-Khelaifi and Leonardo. And during the night, both the Parc des Loges (PSG sports center) and the Parc des Princes were smeared with writings, or rather insults towards the players and the property.
Is Messi returning to Barcelona?
The poor performance against Real Madrid and the boos received yesterday at the Parc des Princes could be the cornerstone of Lionel Messi's adventure at Paris Saint-Germain. The Argentine champion and his family have not settled in the new city and rumors of a sensational return to Barcelona are bouncing from Spain. According to several reporters, in fact, Jorge Messi has already made contact with the Blaugrana management to discuss this possibility.
Also Sergio Ramos and Neymar to leave?
A real market earthquake. AS explains that Sergio Ramos and Neymar are seriously considering leaving Paris Saint-Germain. Contested as Lionel Messi in the twenty-eighth matchday of Ligue 1 against Bordeaux, after the elimination in the Champions League, the two former Real Madrid and Barcelona are thinking of leaving. The Qataris would not want to stop them if will arrive important offer. All while Kylian Mbappé is ready to sign with Real Madrid.